Sanjay Ghodawat in his Office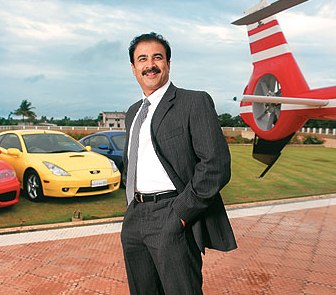 Sanjay Ghodawat with his imported Sports Cars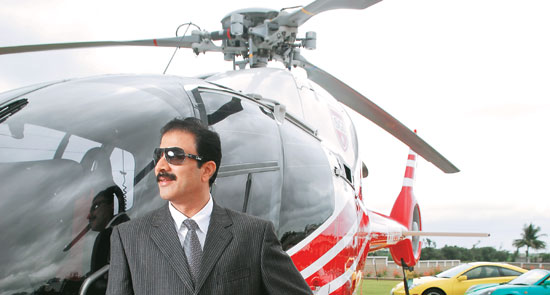 Sanjay Ghodawat Biography
I am in Kolhapur since last more than one and a half years. And I have heard about Sanjay Ghodawat Group many times. He has many Businesses. But his Core Business is Tobacco Products mainly "Star" Gutkha (Pan Masala) which is a very popular brand in Western Maharashtra. Sanjay Ghodawat has made his fortune from Star Gutkha.
From pan masala to wind power and now iron ore mining is a major jump, but one that Sanjay Ghodawat, the dynamic young CMD of the Kolhapur-based Ghodawat group of industries, has facilitated with ease. Ghodawat Pan Masala Products (I) Pvt. Ltd. was set up in 1994 to manufacture pan masala under the brand name 'Star'.
Mr. Sanjay Ghodawat, a well-known personality in business circles, is regarded a legend in Kolhapur, one of the largest districts of Maharashtra for his immense contributions in the professional and social arena. He is a Chief Patron of Jain International Trade Organization and a member of many social clubs.
Sanjay Ghodawat has started his fortune in 1993 with 2 main divisions - Mouth Freshener and Floriculture. Within 15 years only the group has achieved a strength of 5000 employees and the annual turnover of Rs.800 Crore.
Today the group is present in various sectors like  - Wind Power, High-Tech Agriculture, Chemicals, Flexible Packaging, Edible Oils, Real Estates, Heavy engineering, Textile division and FMCG.
Mr. Ghodawat set up India's second largest manufacturing plant of Oxalic Acid having a capacity of 25TPD under the name – 'Star Oxochem Pvt. Ltd.' at Chipri (Jaysingpur) with most of the production being exported. Going further, the Group diversified into manufacturing of flexible packaging under the name 'Star Flexi-Pack Industries' and acquired three companies with interests in real estate and wind power – Everready Investments Pvt. Ltd., Diana Watches & Ancillaries Pvt. Ltd. and Topaz Investments Pvt. Ltd.
In 2002, Mr. Ghodawat further expanded his horizons and ventured into FMCG and established one more industry under the name 'Shrenik Industries' at Chipri (Jaysingpur) which got into marketing of edible salt under the brand name 'Star Salt'. The product was a huge hit within six months of entering the market. In the following year, 2003, Mr. Ghodawat set up two more companies: 'Ghodawat Foods International Pvt. Ltd.', for manufacturing edible oils from Sunflower, Palm, Soyabean, Groundnut, Kardi, etc. under the 'Star' brand and 'Shreya Exports' to manufacture, sell and export tea products under the 'Star Tea' brand. In 2004, Mr. Ghodawat launched a new brand 'Star Mosquito Coil' and by 2005, he started the manufacture of 'Steel Tubular Tower for Wind operated Turbine' under Heavy Engineering Unit of Shrenik Industries. Currently, Mr. Ghodawat is working on his new project – Sanjay Ghodawat Institute, which will comprise Engineering and Management College and an International School.
Mr. Sanjay Ghodawat has been honoured by various institutions and organizations at both state and local level for his immense contribution. Some of his awards and recognitions include, the 'Suryadatta National Award' in 2007 for his excellence in the field of Entrepreneurship in recognition of incredible contribution to Indian industry with special reference to the Wind Mills Project, the 'National Industrial Excellency Award – 2007' from All India Achievers Foundation, Delhi, for his incredible work in non-conventional energy sector through Wind Power Plants and manufacturing of Steel Tubular Towers for Wind operated Turbine and 'Jivan Gourav Award' for his work in industrial and social field.
Mr. Sanjay Ghodawat, as a responsible citizen strongly believes in giving back to the society. In 1996, he founded a Charitable Trust in the name of his mother – 'Sou. Sushila Danchand Ghodawat Charitable trust'. Besides, he has contributed to a number of social initiatives including building for blind school in Miraj, operation hall at Siddhivinayak Hospital, Miraj, plastic surgery camps sponsored by Ichalkaranji Rotary Club at Ichalkaranji where over 500 surgeries are done every year and setting-up of an eye hospital amongst others. In 2001, he started a Blood Bank by the name 'Acharya Shree Tulsi Blood Bank' at Udgaon (Jaysingpur) equipped with sophisticated laboratory equipment and has been rated as one of the best three blood banks in India. Mr. Ghodawat also started a Junior Girls College in 2007, educating over 1700 girls and is now planning to start a Dental and Nursing College.
He is now referred to as VIJAY MALLYA of Maharashtra- he owns a chopper- Eurocopter and a range of more than 100 luxurious CARS which includes Rolls-Royce, Ferrari, Vintage Plymouth, a Bentley and the list goes on and is being extended. This group is a perfect example of small town-Big business running from Kolhapur.